Voor meer informatie over de boekingsmogelijkheden mail to info[at]fluister[dot]org
For further enquiries mail to info[at]fluister[dot]org


Bruno Sanfilippo

(ARG)
generally available
Genre: Modern Classical, Piano
Territory: NL/ BE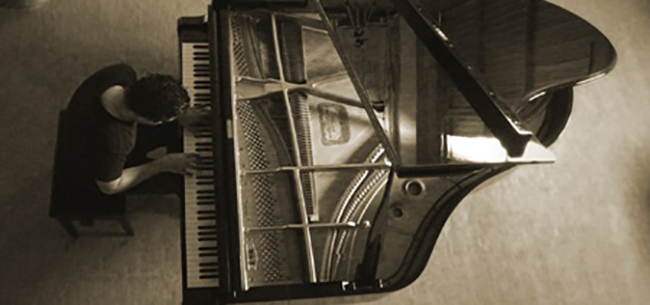 l
[English Below]
Bruno Sanfilippo (ARG)
De in Barcelona wonende Argentijnse klassiek geschoolde muzikant en componist Bruno Sanfilippo verkent de grens tussen eigentijdse klassiek en electro–akoestische pianomuziek. Electronica en prepared piano is daartoe een geliefd middel. Een prepared piano is een piano waarbij de klankeur lichtelijk of ingrijpend veranderd wordt door objecten onder de snaren en hamers te plaatsen. Maar de kracht van deze bijzondere componist ligt bij zijn dromerige, melancholische en licht romantische composities. Bezinnende pracht die liefhebbers van Ludovico Einaudi, Yann Tiersen, en Michael Nyman zeker zullen bekoren. Sanfilippo's laatste album heet The Poet, een album waarin de elektronica minder op de voorgrond treedt. Piano en strijkers nemen het voortouw in 11 bloedmooie composities
Bruno Sanfilippo (ARG)
Bruno Sanfilippo is a classically trained musician and composer. He graduated from the Galvani Conservatory [Buenos Aires] with a degree in musical composition [piano] He lives in Barcelona since 2000.
His focus alternates between the exploration of minimalist piano concepts and electro-acoustic music. He is obsessed with the search for new and unique qualities in music – the amazing, the magical and the deep. In dreams, there's no imagined thing that's too absurd, too strange, and Bruno Sanfilippo's music comes from that inexhaustible and shameless source.
During the last years, he has made soundtracks for feature films. He has performed live & multimedia events at different stages and festivals of the world. Live performances usually consist of performing improvisations on piano solo, or + strings, or + electronic/laptop. Sanfilippo's CDs are available at Databloem, Stashed Goods, Norman Records, Denovali, Discogs, CDBaby, Amazon, p*dis and more… He founded ad21, his personal platform/label for some of his titles.