Voor meer informatie over de boekingsmogelijkheden mail to info[at]fluister[dot]org
For further enquiries mail to info[at]fluister[dot]org


Christine Ott

(FR)
generally available
Genre: Modern Classical, Piano
Territory: NL/BE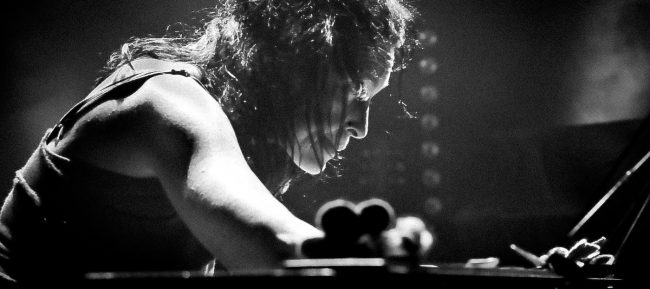 29.03  Leuven (BE), 30cc ( with  C. Lawson & T. Adams)
30.03  Luik (BE), L'an vert
01.04   Utrecht, TivoliVredenburg (with Julien Marchal)
[dutch below]
Based in Strasbourg in Eastern France, Christine Ott is a classically-trained pianist, composer and a rare specialist of the Ondes Martenot. One of the early electronic instruments, the Ondes Martenot produces a distinctive and eerie oscillating sound often compared to a "celestial" voice. Several 20th century composers including Olivier Messiaen or Edgar Varèse for instance have written for the instrument, and over the years, the Ondes Martenot have featured extensively in contemporary popular music and countless cinema soundtracks. Understandably, Christine Ott is a name that frequently crops up in several prestigious collaborations involving the ethereal instrument.
Closely associated with radio waves and developed by Maurice Martenot during the First World War while working with Morse code and military radio oscillators, the Ondes Martenot was first presented in 1928, around the same time as the similar sounding Theremin. The instrument is controlled by a keyboard and by a sliding metal ring worn on the index finger along a ribbon in front of the keyboard. The sounds can be further altered by additional controls and switches producing a wide array of timbres and effects.
Starting her career teaching and playing the classical repertoire and operas, Christine Ott was first invited to collaborate with French composer and multi-instrumentalist Yann Tiersen in 2001. She remained with his touring band for the following ten years, featuring on several live albums and soundtracks. Since then, the musician has broadened her sound palette by scoring silent films or working with bands and musicians from varied musical backgrounds.
Spurred by Jonny Greenwood's interest in the Ondes Martenot, Christine Ott performed live with Radiohead in 2005. She also collaborated with many indie French bands such as Les Têtes Raides, Syd Matters and Oiseaux-Tempête amongst others or with Tindersticks through their soundtrack work for French film director Claire Denis.
Such an exploratory quest into the realms of classical music, cinema, indie rock and experimental music finds an echo in Christine Ott's eclectic artistic output. But instead of solely focusing on the Ondes Martenot in her solo work, the musician rather refers to "sound sculpture" when discussing her music.
Christine Ott, options
1: Solo piano + Ondes Martenot


2: Cine-concert Tabu – F.W. Murnau


3: Cine-concert Lotte Reiniger

4: Snowdrops (duo piano + Ondes Martenot)

5: Carte Blanche (band with members of Noir Desir en Yann Tiersen band) Video Carte Blanche

links: website, soundcloud,spotify, facebook
Christine Ott is een Franse componiste en pianiste. Zij kreeg vooral bekendheid door haar samenwerkingen met Yann Tiersen, Radiohead en Thindersticks. Daarnaast speelde ze in diverse klassieke orkesten. De laatste jaren treedt ze steeds meer zelf in de schijnwerpers. Met als laatste wapenfeiten de prachtige solo albums 'Tabu' en 'Only the silence remains', die in 2016 uit werden gebracht.
Christine Ott heeft zich gespecialiseerd in de 'Ondes Martenot'. Een bijzonder instrument, ontworpen door Maurice Martenot in 1918, dat piano combineert met electronische opgewekte tonen. Een oud muziekinstrument die raadselachtige en boeiend golven speelt en doet enigzins denken aan de theremin. De muziek van Ott is hierdoor al even wonderlijk als het instrument waarmee het gemaakt wordt. Het is deels Satie, maar door de onheilspellende elektronische klanken ook deels en onheilspellende soundtrack.
Christine Ott is een veelzijdig artieste. Het zal je dan ook niet verbazen, dat ze te boeken is met diverse projecten:
1: Solo piano + kleine Ondes Martenot
2: Cine-concert Tabu – F.W. Murnau
3: Cine-concert Lotte Reiniger
4: Snowdrops (duo piano + Ondes Martenot)
5: Carte Blanche (band met leden van Noir Desir en Yann Tiersen band) Video Carte Blanche